Pending. 
Character © to Metal the Rogue/Drago1000100/Detective-Dojima. In order of the usernames on Wikia, Youtube, Deviantart, respectively. MetalTD is also a member at sonicfanon.wikia.com.
Appearance
Edit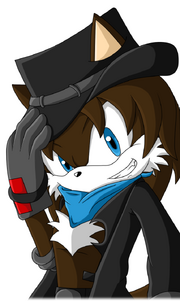 Wrath appears as a medium-tall (4"2) brown Mobian Wolverine, he is quite muscular for his age. He has grey colored eyes.He has short brown hair. He has a noticeable scar right across his chest and under his left eye. He has a noticeable blue marking on his left shoulder. He has a brown wolf tail. He has dark blue markings over his body.
He wears a long black trenchcoat, with a grey trim and wears black boots.
Personality
Edit
To be added.
See above.
See above.
Abilities
Edit
See above.
See above.
Weaknesses
Edit
See above.
Ad blocker interference detected!
Wikia is a free-to-use site that makes money from advertising. We have a modified experience for viewers using ad blockers

Wikia is not accessible if you've made further modifications. Remove the custom ad blocker rule(s) and the page will load as expected.